Eyes of the World - for Children - Book 1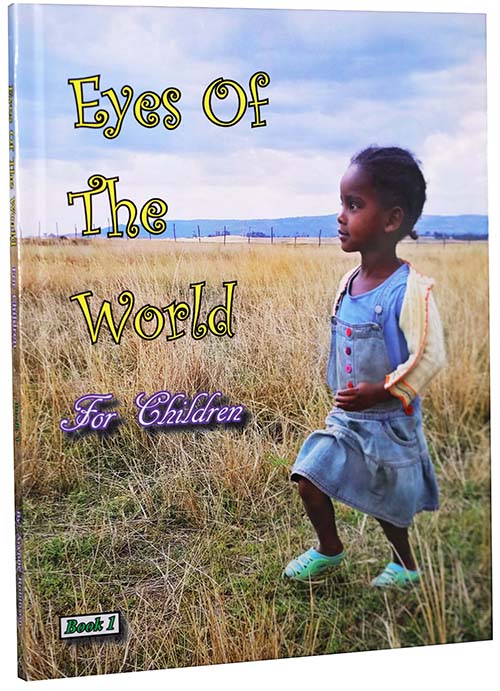 SALE
Eyes of the World - for Children - Book 1
By Dr. Arynne Robinson
Can you guess what an animal is by its eyes?
The Eyes of the World for Children is a fun book series for children about animals.
Beautiful real pictures include a wide variety of animals. The eyes of the animals are first shown, and then the page is flipped to see the full picture of the animal on the other side. Children try to guess the animals from the pictures of the eyes.
These fun books show children how different eyes look for different animals! Educational as well, short descriptions below the pictures teach children many interesting and unique facts about various animals.
Children love trying to guess what animal each eye is from and they enjoy the beautiful and fascinating pictures of a wide variety of God's creation!
Rhymes make the books even more fun to read.
Click here for Book 2 as well.
Eyes Of The World For Children are fun to read with kids, and they make great gifts for birthdays, Christmas, or any time!
Hardcover
64 Pages
ISBN: 1-59087-701-2
The following are a few quotes by people who already have the books:

     "Upon first receiving the Eyes books, my great-grandkids did not put them down until they had finished reading to the end…. And also the adults in the room…. They are unique in presentation, especially the rhymes. They are not only fun to read, but a special time of unforgettable discovery!"                                                                                                                 -Karlene Shea, (North Carolina)
     "I love them!"  -Anna (4 years old. "She has had these books as favorites for several months. She has read through them more than 50 times and does not get tired of them." -Anna's mother)
     "My daughter was showing another little girl at the park a praying mantis and telling her that it has 5 eyes (one of several facts she learned from these books)! These are fantastic books. Very fun, unique, and educational, with beautiful photographs of God's creation."  -Bethany, (Oregon)
     "These books are just amazing. I want every young child I know to have one!! The pictures, the narrative… just beautiful!!"  -Ana (Pastor's wife, Iowa)