Robinson Self-Teaching Curriculum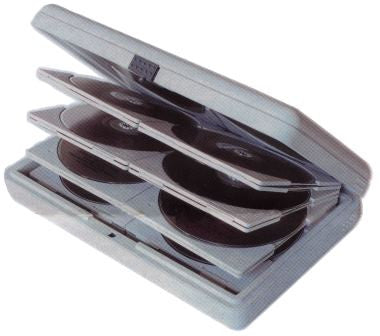 Superb Educational Results.....with far less teacher time
From phonics to physics, these 22 CDs and a set of Saxon math books are all that you need to give your children a superior education. You can use this curriculum to supplement your children's current schooling or as a stand-alone education using the included self-study methods.
 The Robinson children teach themselves (as do the 60,000 children now using this system) ­ so well that their 11th and 12th grade work is equivalent to high quality 1st and 2nd year university instruction in science, history, literature, and general education.
They also teach themselves study habits that do not depend upon planned workbooks, teacher interaction, and other aids that will not be available later in life.
They teach themselves to think.
 Many home schools are limited by the burden of teaching that is placed on parents. Dr. Robinson spent less than 15 minutes per day teaching his six children ­ from ages 6 through 18. Yet, all of his students received excellent educations. Three of them even skipped the first two years of college with advanced placement exams.
Teach your children to teach themselves and to acquire superior knowledge as did many of America's most outstanding citizens in the days before socialism in education.
Give children access to a good study environment and the best books in the English language and then ­ get out of their way! All Curriculum books may be viewed on the computer screen and printed with included software.
This unique curriculum will save you hours of teaching time each day and will give your students an opportunity to develop superior knowledge and life-long study habits.
One caution ­ do not use this curriculum unless you are willing for your children to be academically more learned than you.
The Robinson Home School Curriculum Version 2.2 includes:
Course of Study:   A 120 page discourse by Dr. Art Robinson discussing all the aspects of how you setup and run a self-teaching homeschool using this curriculum which also incorporates the experiences of the many families who have found this to be most effective in their own homes.  12 sections in all: 

Overview
Introduction
Self-Teaching
Study Environment
Science and Mathematics
Vocabulary
Examinations
Oral Learning
Books
Books to Buy
Ordering and Registration
Newsletter Vol. lll, No.12

This is essential reading ... and rereading.   It takes a concentrated effort to get on a different track for our children and deprogram ourselves from an institutional model of dependent learning.   

Books: More than 250 very high quality books. Academic knowledge is in books - especially books that are carefully chosen.  See 'Best Books' below.

 

 

Encyclopedia: The complete 30,000 page 1911 Encyclopedia Britannica with special on-­screen reading software for its use. The 1911 Britannica is generally acknowledged to have been the greatest encyclopedia ever written. Its depth of knowledge and the erudition of its text are remarkable. For the 98% of recorded history that occurred before 1911, this is the most definitive source.

 

 

Dictionary: The complete 400,000 word 1913 Webster's Dictionary with special on-screen software for its use. This dictionary contains five times as many words as the original Webster's dictionary and yet preserves the literary beauty of the original work.

 

Science Texts: All of the required science books and answer keys.  (Current Caltech 101 Science texts.)  Also included are advanced science texts for use by students with unusual ability.

 

Fast Software: Software that operates very quickly in both the on-screen viewing and printing modes. The on-screen viewing software is the best of its type available anywhere. High quality "scale-to-gray" gives your screen a 300% increase in virtual resolution to look as much like paper as possible. Flying magnifier makes details easy to check out. Maximize mode lets you take full advantage of your screen real estate to display pages by temporarily removing all but the essential page navigation controls.

Minimum computer requirements are a Windows OS - Windows XP, Vista, Windows 7, or Windows 8 - running on a PC or a Mac (using Apple's Boot Camp).    Actually, you do not need to own a computer at all - you just need access to a computer with which you can print materials from the CDs as needed.

 
Special: A large number of woodcut illustrations with special emphasis on early American history and geography. Especially noteworthy are over 1,000 detailed woodcuts of civil war events that were produced before 1890 from sketches by individuals, including many famous figures, who actually participated in the war. Study of this collection of illustrations and the accompanying narrative gives the student a very clear understanding and visualization of the events.

Also of special interest is a very beautifully illustrated travelogue of the United States published in 1872. This provides an unusual opportunity to see our country ­ both its cities and its wilderness ­ in the era before it was extensively populated and developed.

Also included is the original King James Version of the Bible - the 1st Issue of the 1st Edition in 1611 (The Great He Bible). This volume is noteworthy for its beauty and historical significance. It is the foundational book of the Curriculum.

Examinations:  Over 50 SAT style examinations with answer keys.   The advanced tests being in essay form.  Tests follow specific books.   Also included are bonus exams for the Chronicles of Narnia series by CS Lewis.
Language Skills:  Penmanship Practice pages by Bethany Robinson,  extensive Grammar Text written especially for the Robinson Curriculum  by Jane Orient with Primer,  Main Course and Reading Passages, Answers to the Grammar Exercises and Basic American English Spelling.

Phonics & Arithmetic:  Printable flash cards for phonics and arithmetic (all that is required before Saxon 54). These flash cards are easily made with any computer printer. 

Vocabulary:  This 6,400 word vocabulary program assures that the student's reading produces an active vocabulary (words used spontaneously in writing and speaking) rather than a passive vocabulary (words understood, but not actively used).

a. Vocabulary list in flashcard format with word-definition and word-sentence for each of the 150 books in the core read order.  On average, about two-thirds of the words and sentences in each list are actually drawn from the books themselves.  The other third are drawn from previous SAT exams. 

b. The flash cards also appear in a second iteration with book numbers printed on each card and both Sentence and Definition appearing on the same card.  The format is more traditional.
c. The curriculum also includes a complete set of printable Vocabulary Exercises.  Each book has its own set, or sets of exercises.  Each of the words for that book are represented in every exercise and these include:

- Vocabulary List - a list of the words and definitions
- Word Find - containing the vocabulary words as clues
- Crossword Puzzle - with clues to words across and down
- Word Find - containing definitions as clues 
- Matching Game - matching words with definitions

d. For the older student there is an on-­screen vocabulary exerciser that tracks the student's progress and adjusts his lessons to emphasize those words with which he is having the most difficulty.

This is followed by the answer keys to all the exercises.
With over 14 gigabytes of information on 22 CD-ROMs conveniently organized in a durable cloth case and accessed with simple, user-friendly software, it can be honestly said that there is not now any home school curriculum for sale anywhere that provides as high a quality home school education as does this Robinson Home School Curriculum Version 2.2.
Best Books by the Best Authors
Sample Books:
• McGuffey's Readers
• The Rover Boys
• Hans Brinker
• Little Women
• Robinson Crusoe
• Heidi
• Up From Slavery
• Twenty Thousand Leagues Under the Sea
• Treasure Island
• Economics in One Lesson
• The Federalist Papers
• The Enterprising Americans
Sample Authors:
• Daniel Defoe
• Rudyard Kipling
• Longfellow
• Horatio Alger, Jr.
• Murray Rothbard
• John Bunyan
• Jules Verne
• Arthur Conan Doyle
• Charles Dickens
• William Shakespeare
• John Calvin
• John Locke
• Isaac Newton

Following is a small sampling of the books and authors that are a part of the Robinson Curriculum.
The Life of George Washington by Josephine Pollard. "The main purpose of the work [is] to give to its young readers a distinct and vivid idea of the exalted character and priceless services of Washington." Other books by Pollard: Our Hero General Grant, Christopher Columbus and the Discovery of the New World, The Bible for Young People
Original Children's Classics: Bobbsey Twins (11 volumes); Tom Swift adventures (8 volumes); 26 Horatio Alger volumes; Five Little Peppers and How They Grew; Heidi; Rebecca of Sunnybrook Farms; The Boy Knight: A Tale of the Crusades by G.A. Henty
History: Life of George Washington by Washington Irving; War Between the States by Alexander Stephens; The Rise and Fall of the Confederate Government by Jefferson Davis; The Life of Stonewall Jackson by R.L. Dabney; Picturesque America: A Delineation by Pen and Pencil, 2 volumes edited by William Cullen Bryant
Economics: The Wealth of Nations by Adam Smith; Economics in One Lesson by Henry Hazlitt
Geography: The Heart of the Antartic; My African Journey by Winston Churchill
Autobiographies, firsthand accounts: Personal Memoirs of U.S. Grant; Diaries of George Washington; The Autobiography of Benjamin Franklin; David Crockett's Autobiography; The Autobiography of Theodore Roosevelt; Memoirs of William Tecumseh Sherman; Lincoln's Speeches and Letters; The Soldier in Our Civil War, a unique collectors two-volume account by those who fought, including some 1,000 illustrations by artists who were present at the events.
For more information on this curriculum, please visit our dedicated website at www.robinsoncurriculum.com.
Users of the Robinson Curriculum are also entitled to special pricing on the G. A. Henty novels. If you a Robinson Curriculum user, please contact us to get this special pricing.