For the Temple: A Tale of the Fall of Jerusalem - Audio Book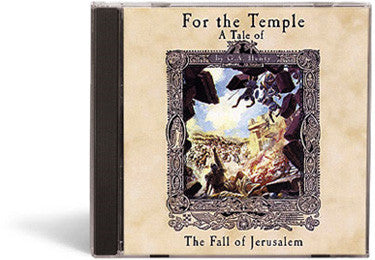 For the Temple:
A Tale of the Fall of Jerusalem
Total Time: 11 Hours, 14 Minutes
Setting:  AD 70 – Palestine and Jerusalem – Roman Destruction of Jerusalem and the Temple. 
Story: Mr. Henty tells an exciting story from the record of Josephus. The troubles in the district of Tiberias, the march of the legions, the sieges of Jotapata, of Gamala, and of Jerusalem all come to life. In this impressive and carefully studied historic setting, you will follow a lad, John of Gamala, who passes from the vineyard to the service of Josephus, becomes the leader of a guerrilla band of patriots, fights bravely for the Temple, and after a brief term of slavery at Alexandria, returns to his Galilean home with the favor of Titus. The fall of Jerusalem is brought to life in this classic.
"I couldn't put the tapes down. I found myself switching from my large CD/cassette entertainment system to a portable cassette ... I'm looking forward to listening to it again."
J. G. - Alexandria, VA
CHAPTER

TIME

1:

The Lake of Tiberias

33:12

2:

A Storm on Galilee

32:40

3:

The Revolt Against Rome

35:11

4:

The Lull Before the Storm

31:15

5:

The Siege of Jotapata

31:30

6:

The Fall of the City

41:03

7:

The Massacre on the Lake

30:04

8:

Among the Mountains

33:32

9:

The Storming of Gamala

33:00

10:

Captives

54:33

11:

A Tale of Civil Strife

30:55

12:

Desultory Fighting

38:46

13:

The Test of Devotion

36:29

14:

Jerusalem

33:42

15:

The Siege is Begun

32:54

16:

The Subterranean Passage

33:15

17:

The Capture of the Temple

33:45

18:

Slaves

37:44

19:

At Rome

40:53

Total Time: 11 Hours, 14 Minutes
MP3 CD
This is a computer CD. The audio files will play on any computer CD drive, DVD player or MP3 compatible CD player. MP3 CD players are available at most large electronics or discount stores, including Best Buy, Circuit City, Wal-Mart or Target. The audio files on this CD will not play on a standard CD player.