Henty Short Stories: Volume 1 - Audio Book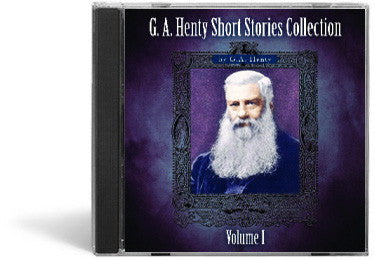 Henty Short Stories:
Volume 1
Total Time: 3 Hours, 30 Minutes
Setting:  Various. 
A terrific addition to your Henty audiobook collection! (The Plague Ship is my personal favorite story on this CD - with a wonderful female lead!) The collection contains narratives that continue the Henty tradition of heroes both brave and modest, but are quite unlike a typical Henty novel in that they are sometimes sentimental or melancholy. Henty was primarily known for his full length novels for young people, but he regularly contributed short stories such as these to weekly boys' magazines such as The Boys Own Paper and The Union Jack, and was editor of many publications as well.
CHAPTER

TIME

1:

White Faced Dick

22:58

2:

A Brush With the Chinese

48:38

3:

A Frontier Girl

36:34

4:

Surly Joe

40:42

5:

The Plague Ship Part 1

34:59

6:

The Plague Ship Part 2

26:18

Total Time: 3 Hours, 30 Minutes
MP3 CD
This is a computer CD. The audio files will play on any computer CD drive, DVD player or MP3 compatible CD player. MP3 CD players are available at most large electronics or discount stores, including Best Buy, Circuit City, Wal-Mart or Target. The audio files on this CD will not play on a standard CD player.