When London Burned: A Tale of the Plague and the Great Fire - Audio Book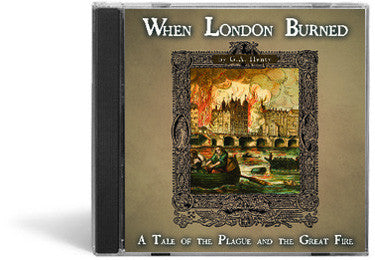 When London Burned:
A Tale of the Plague and the Great Fire
Total Time: 13 Hours, 21 Minutes
Setting:  1660's – London. 
Story:  The 1660s were a time of turmoil in England: Cromwell had been defeated and Charles II, who was sympathetic to the Catholics, was restored to the throne; the Dutch declared war on England; the Plague raged; and the Great Fire of London destroyed half the city! Our hero, Cyril, at the death of his father Sir Aubrey Shenstone, inherits nothing except his father's title, and works as a bookkeeper for various London tradesmen. Honest, hardworking, and quick-thinking, he uncovers the plots of thieves, diverts a fire-ship in a sea-battle, serves as a doctor's assistant during the Plague, and prevents the murder of one of his friends. Wounded in the sea-battle, and later contracting the Plague, he survives all and receives back as a gift, the estates that his father had lost.
CHAPTER

TIME

1:

Fatherless

48:30

2:

A Change for the Better

35:14

3:

A Thief Somewhere

36:43

4:

Captured

36:31

5:

Kidnapped

37:55

6:

A Narrow Escape

37:10

7:

Saved From a Villain

35:32

8:

The Captain's Yarn

42:09

9:

The Fire in the Savoy

16:13

10:

How John Wilkes Fought the Dutch

18:46

11:

Prince Rupert

37:16

12:

New Friends

38:03

13:

The Battle of Lowestoft

38:17

14:

Honourable Scars

37:42

15:

The Plague

40:14

16:

Father and Son

38:41

17:

Smitten Down

37:35

18:

A Stroke of Good Fortune

39:24

19:

Taking Possession

35:49

20:

The Fight Off Dunkirk

33:54

21:

London in Flames

36:50

22:

After the Fire

42:47

Total Time: 13 Hours, 21 Minutes
MP3 CD
This is a computer CD. The audio files will play on any computer CD drive, DVD player or MP3 compatible CD player. MP3 CD players are available at most large electronics or discount stores, including Best Buy, Circuit City, Wal-Mart or Target. The audio files on this CD will not play on a standard CD player.